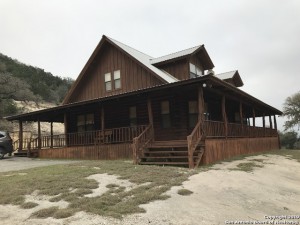 1822 W Ranch Road 337, Leakey, TX
Unique 634 acre property! High fenced, located 1-1/2 miles from city of Leakey, 2 story log home, 3BR, 2 bath, 1200 sqft wraparound porch, detached 900 sqft garage with full bath, beautiful hill country ranch, one of the highest elevations around Leakey, ranging from 1750′ to 2300′, outside fire pit, heavily wooded with oaks, elm, lacey oaks, mountain laurels, wildlife: aoudad, Whitetail, fallow, axis, turkey and feral hogs. Conveniently located near the Frio river.
MLS #1373339
For more information, contact the office at (210) 648-6200.